AIX Trading Volume
In August 2022, the trading turnover was $12,121,762, decreasing by 35.5% compared to the previous month. The drop in August was due to a significant downturn in the bond segment (-62.8%), while the trading volume of shares grew by 11.94%.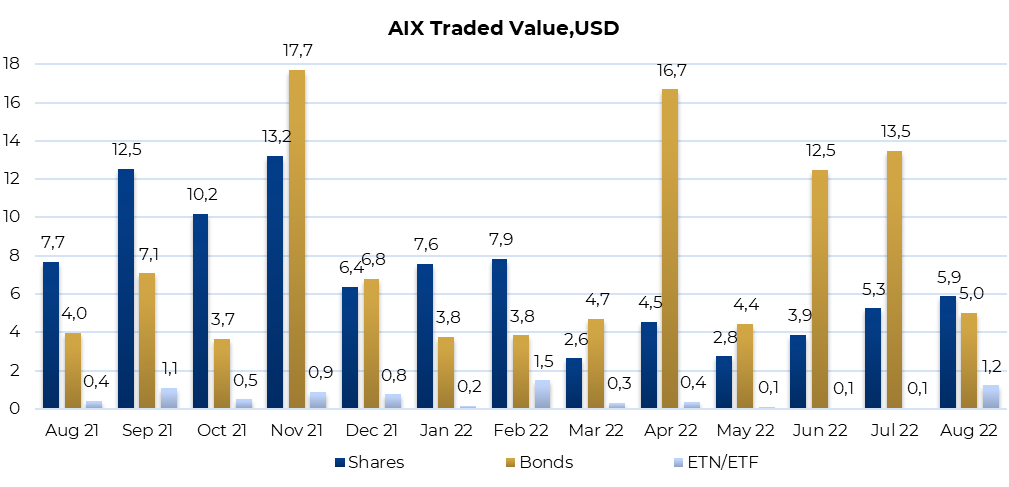 Issuers, Brokers, Accounts
As of the end of August 2022, 131 issues of securities from 87 different issuers, including 19 ETNs (Exchange traded notes), comprised the AIX official list. AIX trading members are 17 Kazakhstan and 11 international brokers. More than 385 thousand investor accounts are opened in the AIX Central Securities Depository.
In August 2022, the AIX official list saw the addition of three-year debt securities of ForteBank JSC in the amount of $ 100 million, issued under the bank's bond program for a total amount of $200 million.
In August, Thomas Murray, which assesses post-trading and custodial risks worldwide, completed the second risk assessment of the AIX Central Securities Depository (AIX CSD) and gave a "A+" rating, meaning "Low Risk". The comprehensive A+ rating reflects the weighted average of eight individual risk components and indicates a low risk profile with a Stable outlook. This puts the AIX CSD at a level above the average for Eurasian Central Securities Depositories (BBB) and at an average level for Asia-Pacific Central Securities Depositories (A+) covered by Thomas Murray.
AIXQI Index
In August, the Kazakhstan stock market continued to grow, for the third month in a row. At the end of the month, the AIXQI index rose by 5.07%, from 868.13 to 912.12.
The upward trend in August was propelled by the shares of the Kazakhstan banking sector. The growth leader was Halyk Bank, whose shares rose by 16.19% over the month. The bank's net profit increased by 22.2% to KZT 157.2 billion for the 2nd quarter of 2022 compared to KZT 128.6 billion for the 2nd quarter of 2021, mainly due to a significant growth in the loan business, including a loan portfolio acquired from SB Sberbank JSC, and net profit on foreign currency transactions. As of the end of the first half of 2022, the bank's assets increased by 13.6% compared to the end of 2021. The second fastest growth rate among AIXQI index companies in August was Kaspi.kz (+13.81%), who decided to pay dividends for the 2nd quarter from August 24, the amount of the dividend being KZT 500 per ordinary share. In August, Kcell quotes continued to grow (+13.72%) as investors continued to buy shares of the telecom operator thanks to positive results of the company's activities. The BankCenterCredit JSC shares also showed double-digit growth rates in August (+11.66%) against the backdrop of the publication of strong reports, according to which BCC's net profit for the 2nd half of 2022 increased to KZT 78.6 billion from KZT 4.7 billion for the same period in 2021. The strengthening of the uranium market, the increase in net profit of NAC Kazatomprom JSC from KZT 58.1 billion in the 1st half of 2021 to KZT 167.4 billion in the 1st half of 2022 led to a rally in the company's shares by 4.81%. In August, Kazakhtelecom share price remained unchanged , the increase was only 0.36%. KazTransOil shares adjusted (-7.8%) after double-digit growth in July. The worst-performing company in the AIXQI index by the end of August was CentralAsiaMetals (-12.74%) due to the fall of the broader market in the UK and deterioration of macroeconomic factors