In 2019, the AIX approved Mining Company Rules based on the standards applying to mining company listings on the Toronto and Australian stock exchanges. The Rules apply a differentiated approach separating large mining companies in advanced stages of development (Tier 1) and junior companies with a higher degree of risk and potentially higher returns (Tier 2). A key requirement for companies is that they should have available a qualified report on geological performance and mineral reserves.
Depending on the tier assigned, mining companies are exempt from net income and minimum market capitalisation listing requirements. Issuers will be required to demonstrate that they employ qualified management and technical personnel, and use geological reporting, as evidenced by independent experts in accordance with best international mining industry standards.
Please refer to AIX Mining Company Rules of the AIX Business Rules.
Natural conditions encourage more capital to flow into the Kazakhstan mining sector:
Wealth of natural mineral deposits
Leading positions in explored reserves and uranium, zinc, tungsten, barium, silver, lead, chromite, copper, fluorite and molybdenum production
Geographic proximity to countries rich in natural resources, such as Russia, Mongolia and Uzbekistan and countries with a concentration of mining investors, such as Russia and China
Kazakhstan has created a favourable regulatory environment for the mining sector to develop
A New Subsoil and Subsoil Use Code builds on Australian practices
The length of time required to secure a license has been reduced to 10 days
Over 600 licenses were issued in the last 2 years
Mining sector investment is concentrated in two world centres, Toronto and Sydney. Kazakhstan and the AIX can find its niche between them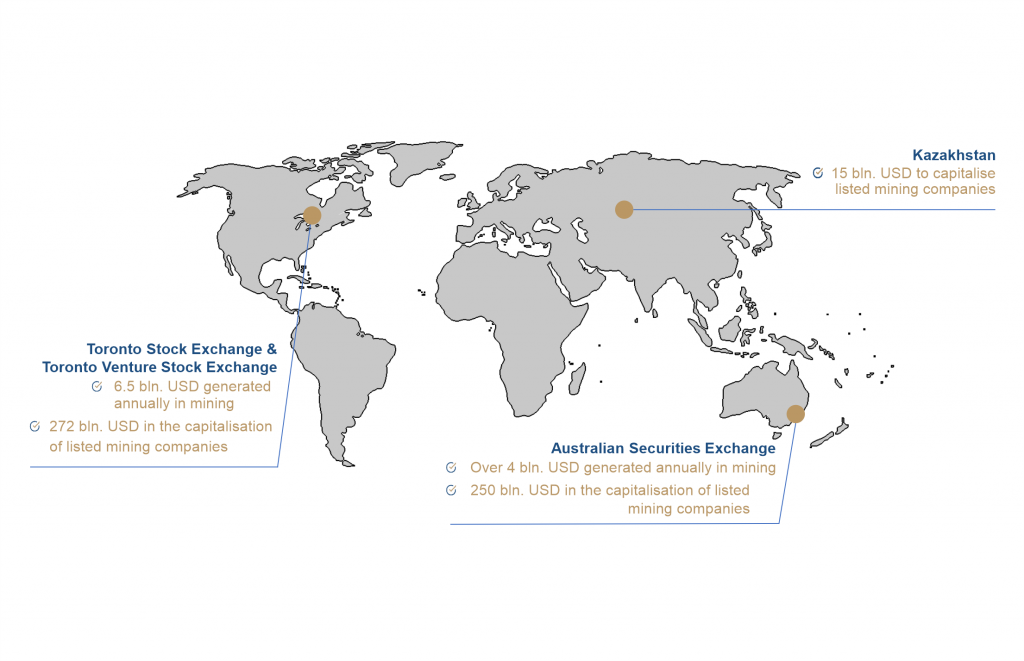 Main mining sector listing requirements
Requirement

Mature companies

Juniors

Financial statements

Audited statements for 3 years

Audited statements for 2 years (not required for newly created companies)

Financial standing

Sufficient to execute a stated work programme within 18 months of listing

Sufficient to execute a stated work programme within 12 months of listing

Minimum market capitalisation

From 1 million USD

–

Geological reporting

JORC or NI 43-101

Proven or Measured Resources

JORC, NI 43-101 or KAZRC

Staff and infrastructure

Adequate management and director experience, and technical expertise suitable to the company and industry; relevant experience in public companies; properly qualified technical personnel and experts; and the necessary infrastructure

Compliance with requirements

Compliance with mining licenses, material contracts and applicable laws
Click here to view rates
Contacts